70 km from Relais Tenuta del Gallo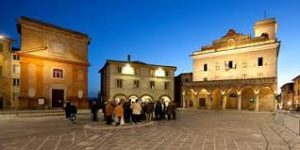 Ancient Roman town built along the Via Flaminia, Trevi is one of the most beautiful villages of Italy (http://www.borghipiubelliditalia.it/borghi), famous for its delicious olive oil.
Constructed in concentric circles, Trevi resembles a spiral-shaped shell which preserves intact its ancient heart of stone, tiles, wood, and earth tones. The center is Piazza Mazzini, in a corner of which stands the 13th century town hall with its municipal tower. From here, passing in front of Palazzo Valenti (1545), we arrive at the former convent of San Francesco (13th century), now transformed into a museum complex. The complex includes the Picture Gallery, the Town Museum, the Museum of the Olive Tree Civilization and the Art Collection. The church of San Francesco dates to 1288 and was modified in Gothic style between 1354-58. Its portal is beautiful, while the interior has a single nave and three apses with cross vaults, the central of which is polygonal. The church houses a Giotto style crucifix painted on wood (begun in the 14th century), executed by the unknown Master of the Crucifix of Trevi. The right hand apse contains the funeral stele of the hermit Beato Ventura, who died in 1310. Once outside the church we can proceed along Via Fantosati to the medieval Gate of the Cieco, from which we go up along Via Dogali to the Cathedral of Sant'Emiliano on the top of the hill, erected between the 12th and 13th centuries but completely restored in the 1800s. Inside, the altar of the Sacrament is particularly impressive, decorated by Rocco Tommaso in 1522. Returning to the Gate of the Cieco, we turn left towards Piazza Garibaldi to reach the "promenade" of Viale Ciuffelli, shaded by ancient trees for about one kilometer, which links the center to the Franciscan convent of San Martino (end of 15th century) and its chapel frescoed by Spagna. Descending southwards from Trevi instead towards the Flaminian Way, we encounter the Renaissance style Sanctuary of the Madonna delle Lagrime, with its lovely portal carved with basreliefs. The interior, in a Latin cross plan, preserves the sepulchral monuments of the Valenti family, while Perugino's last work, the Adoration of the Magi with the Saints Peter and Paul (1521), is located in the second altar on the right. Once again going down along Via Dogali, we pass under the Arch of Mastaccio, an ancient gate in the Roman and early medieval walls, with a pointed opening and double lancet window above. The houses on the two sides of the street all date to the Middle Ages. There are many edifices built between the 15th and 18th centuries which lend this village its unique atmosphere. Finally, the Clitunno Theatre from the second half of the 19th century, with its curtain by Bruschi, is worth visiting.