9 km from the Relais Tenuta del Gallo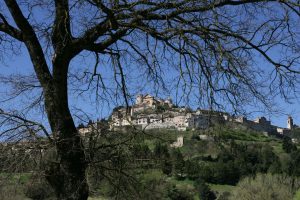 It is the oldest city of Umbria, founded by the "Umbri" in the 12th century B.C.
The ancient hamlet is protected by megalithic polygonal walls, formed by large blocks held together without cement, the origin of which is attributed by common legend to the Cyclopes.
Amelia was an important and thriving municipality of the Romans, called by the name of "Ameria". Much evidence of those past times remains, some preserved in antique palazzos , others still intact: the Roman Door, the Roman cisterns, the Germanic statue preserved in the archaeological museum.
Amelia is also full of monuments and medieval and renaissance works of art: the Civic Tower with dodecagonal layout dating back to 1050 A.D., the symbol or communal freedom; ancient frescoed stately mansions like Palazzo Petrignani, Palazzo Cansacchi, Palazzo Farrattini (a reduced scale copy of Palazzo Farnese in Roma); the churches of San Francesco, Sant'Agostino and San Magno; the Cathedral.
Not to be forgotten finally, is the theatre of Amelia which, built in 1782, represents a smaller model of the Fenice theatre in Venice.
Not to be missed are the traditional medieval pageants, like the "Palio dei Colombi" and the Historical Commemoration of the Amerini Statutes, which takes us back to Medieval times.