42 km from the Relais Tenuta del Gallo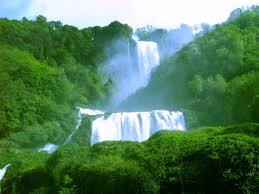 The spectacular Marmore waterfall is one of the highest in Europe with a vertical drop of 165 meters. You can also take guided tours, including visits in to the galleries excavated by water for thousands of years, sales with stalactites and stalagmites or the enchanted walk, the animated visits for children on the traces of Gnefro, the mythic elf of the Falls.
Marmore waterfall is 33 Km far from Amelia and 7 Km from Terni, it can be reached via the E45 in the direction of Terni, exit Terni Ovest.