92 Km from the Relais Tenuta del Gallo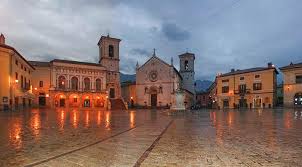 Norcia, in ancient Nursia, is an important town as early as the ninth century. BC, was then subjected to Rome in 290 BC III sec. A.D. and was the birthplace of St. Benedict.
To see the walls of the thirteenth century by the singular form in the heart.
The historic core of Norcia is enclosed by 13th century walls which form a unique heart shape. Along the perimeter the eight ancient village gates can be seen, which have preserved the names and characteristics of the past, together with the medieval towers.
In the main square, dedicated to St. Benedict, facing the most important buildings of the town. Palazzo Comunale, or Town hall, constructed in the 13th century, the Basilica of San Benedetto, which has a 14th century gabled façade in Gothic style, the Castellina fortress, that today is the seat of the Civic and Diocesan museum. To see then the Concathedral of Santa Maria Argentea that has Roman origins, is the former church of San Francesco, one of the most significant examples of Gothic art in the area, with remarkable internal frescoes of the 15th and 16th centuries, the church of Sant'Agostino.
Norcia is a true gastronomic paradise, where typical products of the highest quality reign. Among these are the prized black truffle (Tuber melanosporum vittadini), the Castelluccio lentil (the best in Italy) and prosciutto, both rewarded with the Protected Geographical Indication, the salami and pork butchery products, cheeses, spelt and other grains, and honey.