125 km from Relais Tenuta del Gallo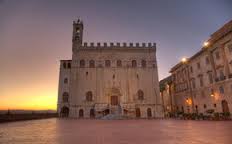 Gubbio is perhaps the most beautiful medieval towns in Umbria. The "Tables of Gubbio" of III-I century B.C., the ruins of the Roman Theatre of the first century. B.C. as well as the myriad fragments of the Bronze Age testify to its former greatness.
The Gubbio city walls was built at the end of the XIIIth century , of considerable interest are the six doors that open in it. Entering in Gubbio you can enjoy the splendid palaces Public and Piazza Grande, built in the first half of '300.
To visit other important monuments: the Palazzo dei Consoli (completed around 1340, which today houses the Civic Museum); the unfinished Palazzo del Podesta (now the town hall); the Doge's Palace (built after 1470 by Francesco di Giorgio Martini by Federico da Montefeltro); the Cathedral of the buckets. XIII – XIV (has restored the interior at the beginning of '900); the nearby Palace of the Canons is the Diocesan Museum; the church of S. Francis of the thirteenth century. (Inside in the apse there are frescoes of Nelli).
Of great interest are the churches of St. Augustine, St. Dominic, St. Peter and St. John; the Church of S. Secondo (built in the fifth century. A.D.); the Basilica of St. Ubaldo (almost to the summit of Monte Igino, and can be reached by a comfortable cable car which houses the incorrupt body of the saint patron of the city and the Ceri of Gubbio); the Church of Vittorina the thirteenth century. it seems that it was built on the site where St. Francis met the wolf of Gubbio.