AMELIA CICLOPICA – GIANTS ON HILLS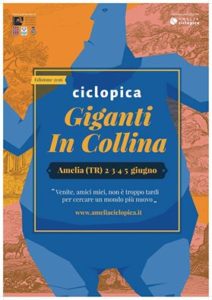 From 2 to 5 June 2016 Festival of Literature, philosophy and art!
The Giants are going up the hill and expect us to Amelia
Cyclopean. Giants on hills, is a four-day festival dedicated to literature, philosophy and art that, after the success of 2015 edition, is back with a second edition full of meetings, conferences, debates and concerts.
The philosophical and literary dialogue will be enlivened by the voices of many scholars, writers and artists, from different backgrounds and training. The desire is to develop a deep and creative interpretations with which to study the social changes and to reflect on the contemporary, using the valuable lenses that our cultural history lefts us in custody.
Around these events, you find space a more recreational programming consisting of live concerts, musical and theatrical performances readings, as well as many initiatives dedicated to schools, designed to bring younger people to the fascinating worlds of literature and philosophy.
A special area will be dedicated to art and photography, the exhibition at Galleria 'The Barn' and the installation of Joshua Quadrini.
Among the protagonists of this second edition there will be Antonio Pennacchi (writer), Giulio Giorello (philosopher), Nadia Fusini (literary criticism), Vitaliano Trevisan (writer), Donatella Di Cesare (philosopher), Yahya Pallavicini (imam), Massimo Donà ( philosopher), Marino Sinibaldi (director of Radio 3) and many others.
Cyclopean this year adds in its program an exceptional partnership with Ameliadoc (one of the most important wine event in Umbria, which this year will be held June, 9th to 12th). Two events together to propose a marriage between wine, music and philosophy. A partnership between two manifestations that have the common objective of promoting and enhancing the beauty of the land.
The AmeliaCiclopica Association was born from the ambitions and experiences of some young people from Amelia around the world, intending to make the city a competitive cultural center, modern and visionary.
The promotion of the territory of origin passes through the contamination of the arts, the hill becomes the space of confluence of these energies.
Rossini Ilaria
press@ameliaciclopica.it
331 8487260
www.ameliaciclopica.it
And for those who want to follow on social AmeliaCiclopica:
Facebook: AmeliaCiclopica
Twitter: @AmeliaCiclopica
Instagram: ameliaciclopica